When I talk about promoting horror at the library, THIS is what I'm talking about.
Lizzy Walker is the Metadata and Digital Initiatives Librarian at Wichita State University Libraries. She has a background in public services and metadata. She also has a strong interest in medieval studies, horror studies, and English literature studies. And check out what she did.
While other libraries and librarians are creating exhibits themed around Valentine's Day, Black History Month, President's Day, and other themes common to February library displays (and I'm not discounting the importance of any of these), Lizzy came up with this:
And she has created a Women in Horror Month LibGuide to go with it. How cool is that?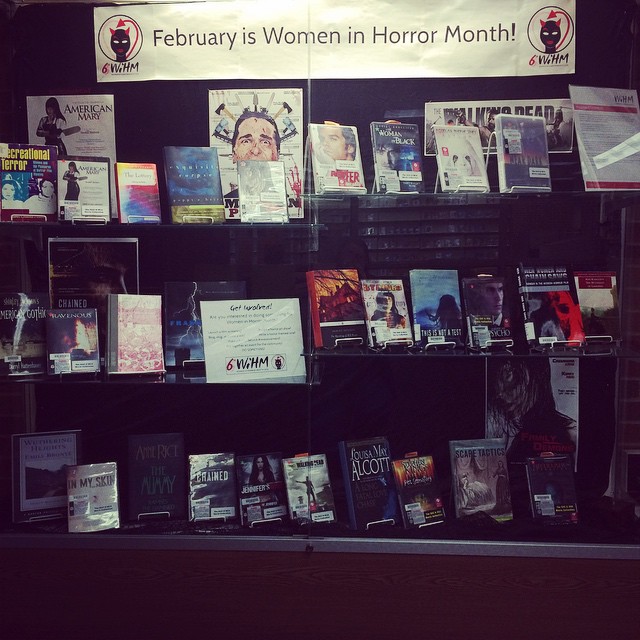 Here's what Lizzy had to say about her guide:
I created a Women in Horror Month (WiHM) LibGuide after researching materials we have in at the Wichita State University Ablah Library, as well as materials that we ordered just for the display. I quickly realized that not all of the materials would physically fit in the case. I didn't want all of this research to go to waste, so I decided a subject guide would be the best place to keep all of this information. Here, users may browse the materials I included in the Movies, TV Series, Gothic Novels, Modern Fiction, Literary Criticism, and Film Studies tabs. It's a work in progress—I plan on continuing to populate it with materials as I find them, as well as when we purchase materials that fit the criteria.
 
Lizzy included some really cool stuff in her guide, but it's clearly just a beginning. It will be really interesting to see how this resource develops!