Cemetery Dance "Will Tweet For Books" Promotional Offer:This Time They are Giving Away $2000 In FREE Books!
Now With EIGHT Easy Ways To Enter!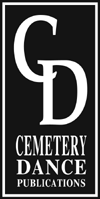 To enter for a chance to win a FREE $200 Cemetery Dance Gift Certificate from Cemetery Dance Publications, all you need to do is help promote this contest! There will be TEN WINNERS picked on April 2, 2012 and it costs absolutely nothing to enter!
Head on over to http://bit.ly/CDFreeBooks to find out how to enter.  Cemetery Dance produces some of the most fantastic horror titles out there and this is a great way to get a chance to get add some of those titles to your library!